Live Menu
Edit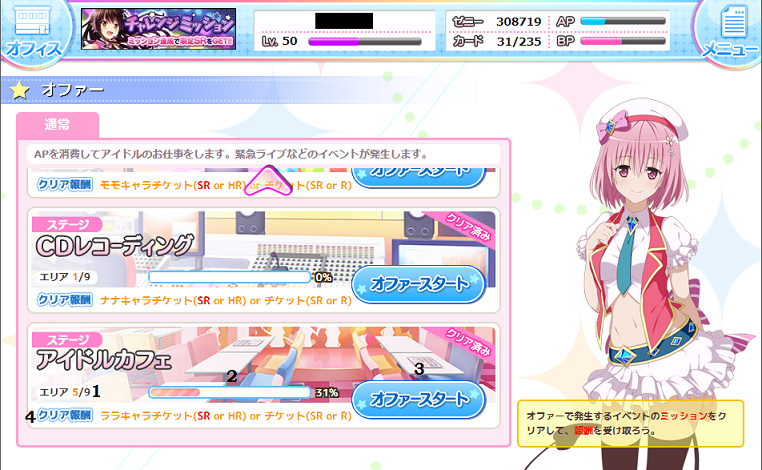 1 : Current Progression / Final progression
2 : Clearing Progression
3 : Selecting Stage
4 : On the end of stage there will be questionary of a answer right (SR or HR) or answer wrong (SR or R)
if you correctly answer based on GS answer so you will get a chance to get SR or HR and chance to get SR or R for other than GS
this stages can be repeat again for farming tickets, correct me if i wrong :)
During Live
Edit
1 : Auto-Live
During this moment, 3 Events can pop
Dance Menu
Edit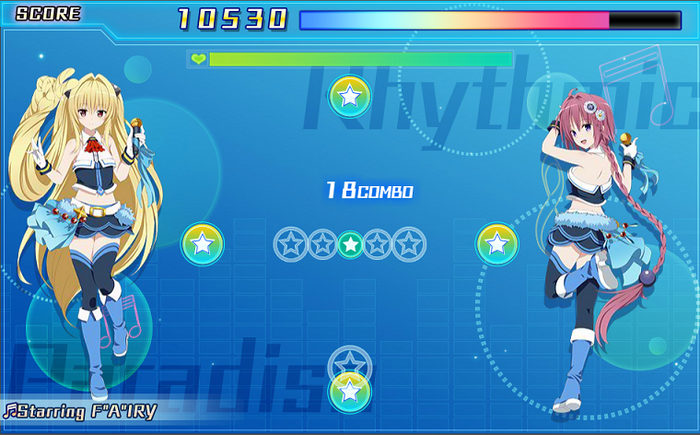 Dance : if you already play Rock Band, it's same... Just you need to use your Arrow keyboard
Live Show : Perform in Live Show with your Current Team... You appeal most be highter than the Voltage or you need to do again the Live Show with the current progress of your Team
Fortune Time : Select 1 Answer of 3 Answer that's show to you for get a Reward. More the music is harmonious, more the reward is better.
Fortune Time
Edit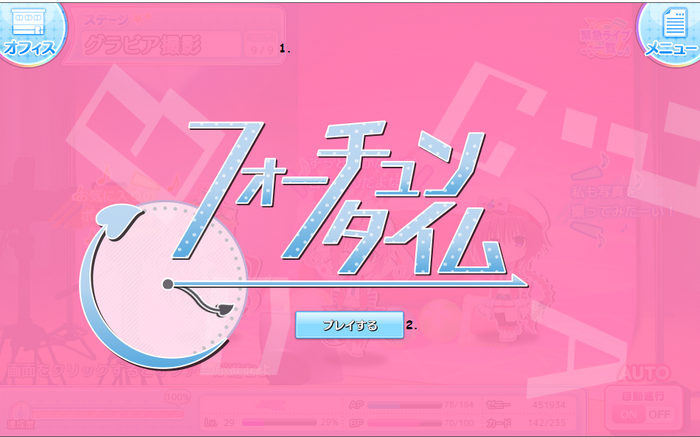 1 : Current Progression / Final progression
2 : Begin Fortune Time
PS :
You often get Fortune Timed with Time 5 sec before the end of a stage 
You will always get Fortune Time with no timer at the end of a stage
TIP for Fortune Time :

Correct answer = Gives you an R-ticket
Success answer = HR character ticket
Great Success = SR character ticket
It's important to remember which answer gives which kind of result. There are many kinds of questions but the set and arrangement of the choices will always be the same, so you can just memorize the question in the position of the answer that gives the best result. However, some characters have choices that are only for them, like for Yui she has the "Harenchi Pose" as a choice when asking for a pose.
Each character has her own set of "correct" answers 
(Like choosing the 1st answer in a specific question for Mikan results in a Correct, while choosing also the 1st answer for for the same question during for Momo gives a success.)
However, an answers result is not definite. Some answers result in Correct more, while others result into Great Success more
For more details n support of list Great Success answers go for the comment box below :)


IMPORTANT NOTE
It's important to remember the answers !
Because, is not always same on EACH stage ! You need to remember on all Stage for get the most Great Success possible
Community content is available under
CC-BY-SA
unless otherwise noted.